Da Nhim Lake
Overview of Da Nhim lake
Da Nhim Lake far away from Da Lat city about 36km. Da Nhim lake is located in Dran Town, Don Duong District,
Japanese and Vietnamese specialists had built a soil dam, with the length 1460 m and hight 38m. This lake is the barrier of the Da Nhim River and creates a lake to reserve water with the capacity is over 165 m3 and the width is about 9.7 km2.
The river originates from Gia Rich Mountain (1923m) in Lac Duong District, Lam Dong Province, close to the border of Khanh Hoa and Ninh Thuan. The river flows through Don Duong, arrives in Duc Trong and finally pours into the Da Dong River near Pongour Waterfall.
Da Nhim also has a romantic love that few people know.
The Legend narrates that: in Con do village, Đưng K'Nớ Ward commune, Lac Duong district. There was a family. A husband named Ho Biang and his wife named Klang. In one year, drought was widespread, so Hobiang went on the road to sue God. Unfortunately, when he came to Gang-Reo Mountain in Duc Trong District, he was so hungry so he died. Day by day, K'Lang always waited her husband came back home, but he didn't come back so she had to go to find Ho Biang. When she saw her husband's body, K'lang could not hold back tears.
She screamed so loud. Her sound was sonorous " Eight Rivers, eight mountains, eight forests" and up to the blue sky, the god immediately ordered rain genie to drops water to help people but K'langs till was crying untill death because of grief. elephants and the leader Elephant feel touched, it came to near K'Lang to protect her, and also he was crying until death with K'Lang. Rain mixed with elephants and the girl tears flowed into the river. Now it called Da Nhim River ( Nhim means crying).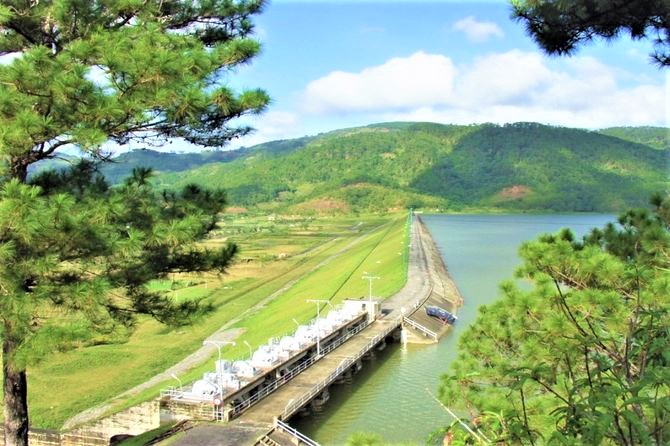 Today, visitors are not allowed to approach the dam because of the safety reasons. It is also possible to view the dam from a distance as far as Dran Pass or Giac Nguyen Pagoda