Kinh Summer Palace 
History of the Palace.
In Dalat, King Bao Dai has three residences, so the name is the Palace 3 To easily distinguish to the other residences. King Bao Dai was the last emperor of the Nguyen Dynasty. It was also the last king of Vietnam's feudal dynasty. Later, the French with Bao Dai established "Hoang Trieu Cuong Tho" in 1950.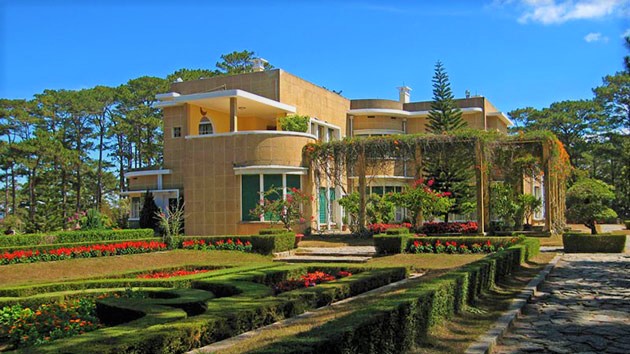 The building was built in 1933 and was completed in 1938. Designed by architect Huynh Tan Phat and French architect Paul Veseyre. The residence is located on Ai An hill,  in the renovation project Da Lat of the architect Hesbrard.
This hill is 1539m above the sea level and located on Trieu Viet Vuong street.
Architecture is influenced in European architecture with Trend of innovation. Palace 3 was selected as a beautiful buiding and noble work, located completely in a pure pine forest. Decorated with many small garden scenery, style park as a Royal Garden. Ai An Forest and a feing shui lake is very romantic. the flowers are stylized in a wonderful manner in the shape of geometric shapes. Surrounded the flowers , there are small roads for the king and family to walk beside the green grass.
Same as Palace 2, Palace 3 is also a balanced villa but it is not rigid. In Front of the palace, there is a porch for parking. Ground floor is the work area, including working  rooms, study rooms, library, dining room and lounge.
The entire 2nd floor is used for living including the bedroom, the talk room, embroidery room. A moon Watching  Room. Here you can see the pines, the whole garden and even the far valley.